Buy Ashley Davies' Albums
Muscle Drum Music Volume 1
Muscle Drum Music delivers classic belting drum solo work between moments of foot-stomping rhythms with a healthy injection of swing. But this is much more than a one-trick recording. It deserves a bigger audience than it'll probably get in this country. Bring on Vols. 2 and beyond.
CHRIS LAMBIE Forte Magazine
A soundtrack that transports you to the crashing early morning waves of Australian surf beaches.
CON SARAZEN mX Magazine,
an earthy, visceral experience …..at the end of the day, there's a lot of ways that the nine tracks of Muscle Drum Music can be taken… anything except sitting still.
JESSE SHROCK Beat Magazine
This album is bloody great….. the drummer's drummer, the top of the game in this country, and probably the world.
SAM FELL Rhythms Magazine
 With Muscle Drum Music, Davies reveals himself as a multi-faceted musical artist; one of those rare musicians who writes his own songs, plays all his own instruments, and is talented enough to justify being called a 'one-man band'. Don't you just hate them?
SIMON GORDON The Dues
Muscle Drum Music Volume 2
I've been waiting for this since it's predecessor, and I've gotta say right off the bat, I'm not disappointed in the slightest. This is masterful and it's something I'll be listening to for some time to come.
Sam Fell – Rhythms
A lot more full and textured than your average drum clinic…… Davies' gleeful momentum rarely fails to translate.
Michael Dwyer – Rolling Stone
…a superb solo album…..reinstates this powerhouse drummer's credentials…..made for winding the windows down and cranking the volume
Jarrod Watt – ABC Radio
Toe-tapping rhythms, syncopated grooves and general percussive overload. A worthy alternative to doof-doof dance music for your next shindig.
Jesse Shrock –Beat
A brilliant showcase for the musicality of the man best known for his beats.
Chris Lambie – Rhythms
Muscle drums Music 2 is a well played, enjoyable alternative to all kinds of dance music for those of you who like their sounds pounding. The songs are rich and textured and the rhythms are indeed toe-tapping!
Billy bop radio – belgium
Ahh, the drums. The ancient pagan skins. Ashley davies is the consummate drummer with an unsurpassed vision for music composition. His latest cd muscle drum music vol 2 is the embodiment of just that. From the opening track 'mambo wah wah', and throughout all nine songs, you will find your toe tapping.
The blue review magazine – U.S.A.
Ned Kelly
It was the hit of the festival
Patrick Donovan, music writer The Melbourne Age.
an evocative re-telling of the life of Australia's best known folk hero combining music, images, text and narration, this show was moving, informative and captivating…
(Rick Rutjens, In Press magazine)
The show is fabulous. I haven't stopped raving about it and am insisting that everyone I know gets along to see/hear it.
(Jude Gun, Melbourne Fringe)
A tightly packed crowd sat transfixed by Ashley Davies' Ned Kelly, the multimedia telling of Ned's story.
Louise Maskell (Herald Sun)
Powerful, captures the atmosphere and emotion of the Kelly saga
(Clare Williamson,Exhibitions Curator – State Library of Victoria)
Burke And Wills: The Expedition
STACK MAGAZINE MUSIC REVIEW – JB 4 STARS
It's inspired books, movies and monuments. Now Burke and Wills' ill-fated trek across Australia has inspired a double album, compiled by Melbourne musician Ashley Davies.
From Reg Mombassa's cover painting to Henry Wagons' perfectly phrased narration, this is a work of art.
Davies creates evocative images with his instrumentals, capturing the highs and lows of the mission, exposing the loneliness and danger, and the harsh beauty of the landscape.
Ultimately, the expedition was an epic failure; the album is a triumph.
– Jeff Jenkins
BEAT MAGAZINE 4 STARS
Along with his musical skills, Reg Mombassa provides the unique cover for this unique two disc set, one instrumental, the other narrated by Henry Wagons. Yet the cover is a little to positive for a recording that celebrates an initially euphoric vision which ultimately ended in stoic fatalism in the desolate Australian outback. This is a record which should be placed in a time capsule for future reference as a prime example of taking the listener on a romantic journey through the beguiling Australian landscape as it wreaks havoc on the expedition party. Nothing can be faulted with this deluxe package.
Ashley Davies reignites his musical relationship with Matt Walker and this works a treat. History records this expedition as no venture for delicate sensibilities. But just like the journey, this record is something of a milestone in the career of those involved. It is astonishingly drifting and superlatives come easily. The narration of Henry Wagons traverses a story as vast and inspiring as it is doomed, to the inevitable end. It is a snapshot of the Antipodean ideal of giving everything a go. Valorising the principle that despite overwhelming hardship, mateship will shine through.
 
How can one not get a heavy heart when violin and didjeridoo are the backdrop as Wagons recites a dying Burke's wish that fellow traveller King "remain with me til l am quite dead, it is a comfort to know that someone is by." Or when King is found after being the last man standing, drenched in a flood of tears answering "I am King, sir, the last man of the exploring expedition." This recording should become compulsory syllabus in Australian history and its benefit would be two fold. Not only would young minds be nourished by important national events but their ears would be exposed to some sterling music. 
 
The listener has a birdseed view of the journey from Royal Park in Melbourne through torrential rain and stultifying heat. All the while there is omnipresent gloom surrounding the optimism, The Gulf- Success, Of A Kind, Gray Has Suffered Very Much, Towards Adelaide, By Mount Hopeless. The Expedition is one of the finest Australian records that can only instil the very best of national pride. 
 
BY BRONIUS ZUMERIS
In A Word: Colossal 
ASHLEY DAVIES
RHYTHMS MAGAZINE
The adjective "epic" is not always positive when applied to music. While there is nothing overblown about Ashley Davies' new instrumental soundtrack to the saga of Burke & Wills, its scope and ambition are as epic as the journey it is based on.

Featuring two CDs – one of instrumental music, the other including narratives by Henry Wagons – a cast of hand-picked Australian musicians, and a magnificent booklet of photos and paintings (including a cover painting by Reg Mombassa), the whole production smacks of dedication and application.

Indeed, the first track of the narrative CD is entitled 'The First Steps In An Epic Journey'. It portrays the expedition's ceremonious departure from Melbourne and quotes Burke as exclaiming, "No expedition has ever started under such favourable circumstances as this." We all know how dramatically those circumstances turned.

There is a huge amount to digest on Davies' project. The CD of 11 instrumentals intends, it seems, to follow the expedition in music, setting out optimistic and jaunty (though there's a definite note of trepidation in Track 1) with the guitars of Matt Walker and Shane O'Mara featuring prominently. Some of this material is robust and structured, like rock songs without vocals (though Abbie Cardwell does contribute some wordless singing).

A foreboding tone creeps in around Track 6 before Track 7 drops the pace to a stumble. Inevitably, the tone becomes increasingly dark and then intense (Michelle Lewit contributes some spooky violin) before Davies winds up the album with a poignant guitar composition.

The second CD features the same tracklist with Henry Wagons reading narrative over the top. I love the narrative, but I'd almost prefer an album with the narration set between each track so you could give each the attention they deserve.

Nevertheless, you can't help but marvel in admiration at what Davies and co have accomplished here.
By Martin Jones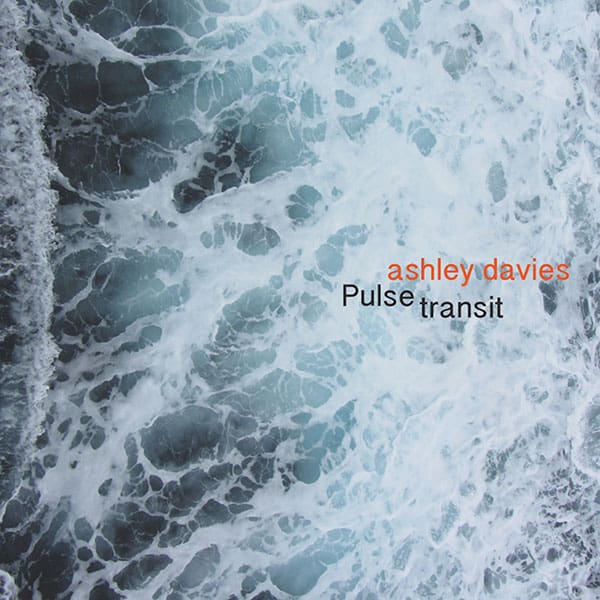 Pulse transit
Pulse Transit is exactly that; this album has the beat, with its rhythmic reoccurrence of strokes, and the movement, with its feeling of shifting through time.
Ashley Davies wanted to create an album that has two parallel trajectories travelling along two lines of time and that's what he has done. Each track has one sound that feels fixed, while the other is shifts and unfurls along that fixed line. His unique idea to bring these two forms together has worked magically to make a new synth/electronic mix.
Davies has managed to take something we know and love and make it new again.
THE MUSIC – Mikayla Carmody
Time has passed since the magnum opus that was The Expedition: Burke & Wills. Ashley Davies returns to again entertain the music public with a solo offering. Of course, he's lent his skills to various other projects such as Models, which has kept him suitably occupied. Pulse Transit, however, takes the listener on a different journey and mind space. If the predecessor was all dusty roads, water holes and emaciated bodies, this is a sports car rocketing down the autobahn with carefree abandon.
 
Intro Divide One seamlessly gives way to Bring Into Focus with tight drums, future synths and cerebral syncopation flourishes. By the time the harmonium does its thing on Decoke, you get the giddy feeling of having been everywhere at once, and this is only track three. Five more tracks of inspired self-determination follow and explode into unimagined worlds of sound. Pulse Transit has that uninterrupted floating quality of an oil globule in a lava lamp. The upward trajectory even manages to involve some perversity of disparate sounds. And the results are thrilling.
Beat magazine – bronius zumeris
BEATS TOP TEN 2017
Name: Bronius Zumeris
 
Top Ten Albums of the Year:
1. Close Your Eyes And See Blackeyed Susans 
2. Migration Bonobo 
3. Lovely Creatures Nick Cave & The Bad Seeds 
4. Pulse Ashley Davies 
5. Go Farther In Lightness Gang Of Youths 
6. Intoxicated Women Mick Harvey 
7. American Dream LCD Soundsystem 
8. Leftism 22 Leftfield 
9. Every Country's Sun Mogwai 
10. Sleep Well Beast The National